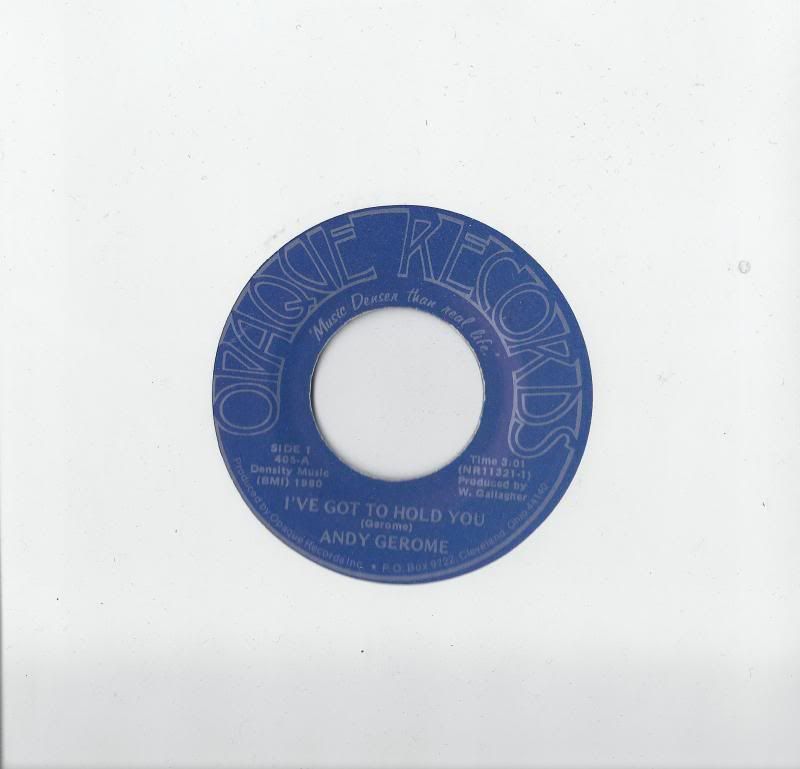 ANDY GEROME, 'I've Got To Hold You' b/w 'Only One More Song' (Opaque, 1980)
If I'm doubtful that the sins of the awful white-pop-reggae B-side of this single will ever be forgiven, I'm more than confident that the hype-line parenthetical 'FEATURING FORMER MEMBERS OF
BRIAN SANDS' MILK
and
MOSES
' will fail utterly to put any proverbial butts in seats other than Clayton Silva's and my own (and we'd been camped out here for months anyway).
BUT…if anyone is curious about the post-

CHOIR

/pre-

PAGANS

-cover doings of

BRIAN SANDS

and former

CHOIR

member

DENNY CARLETON

, I daresay it is well worth a look and a listen ('

TINY TIM medleys, RUDY VALLEE songs, "2000 Man" by THE STONES, baseball cards thrown from the stage along with group photos posing with man-sized shampoo bottles…"Whistle A Happy Tune" and" Getting To Know You" were turned into rock songs and readings were delivered from an old Army joke book during any lulls in the music.

Then there were originals such as Brian's own "Eat The Hot Dog Now, Get Sick Later" and Dennis's infamous "Boy Can I Dance Good"'

).
But save your fork, there's pie:
AMERICAN
(
NOISE
) pie!
ANDY GEROME
's lone single also featured some string-benders and skin-pounders who had previously tolled it down and torn it up with the likes of
CIRCUS
('Feels So Right,' 'Stop Wait & Listen') and sun-shaded city rockers
AMERICAN NOISE
.
Talk about your Cuyahoga social degree!
…and, really, besides that, there's not that much more to comment on.
Other than that
ANDY GEROME
and Co. once opened for
THE BALONEYHEADS
on a show that was broadcast on Cleveland's WMMS FM and that
GEROME
pays the bills these days trading in
JOE SATRIANI
-instrumental guitar rock/blues/fusion jazz moves.
Oh, and the fact that 'I've Got To Hold You' is an amazing song – every inch the equal of anything ever released by BLUE ASH, CLUB WOW or DON KRISS and, unlike a lot of the material by those groups – with a terminal vector radio-eye zeroed in on the lead formations of the Top 40 charts. The arpeggios around the two-minute mark are particularly heart-stopping.
1000 copies pressed on the band's own Opaque Records ('Music Denser Than Real Life') and never issued with sleeve, enjoy then the A-side and thank your lucky stars that I'm not dropping the B.
'I'VE GOT TO HOLD YOU'

'ONLY ONE MORE SONG'