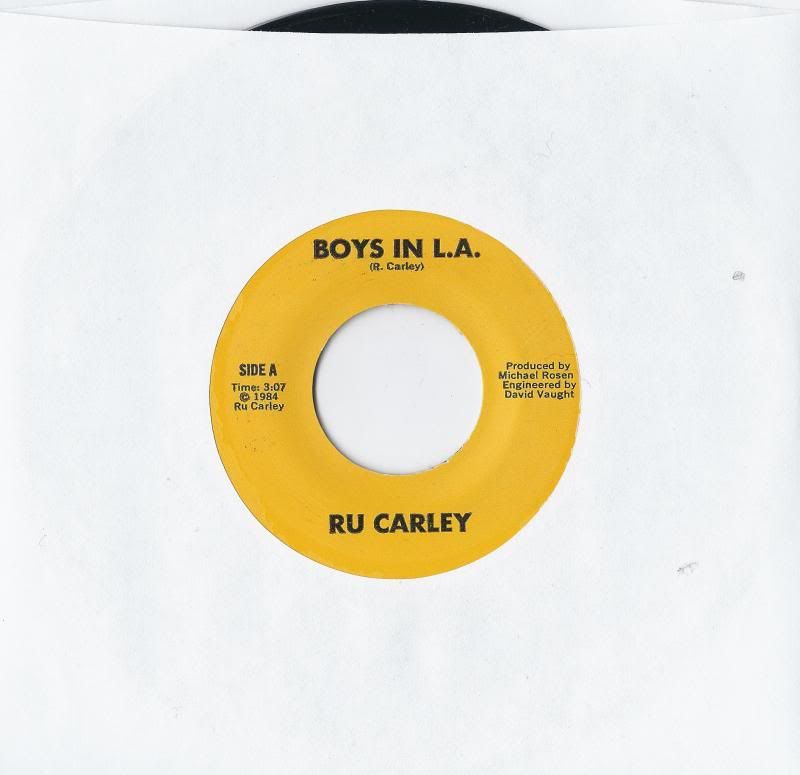 R.U. CARLEY, 'Boys In L.A.' b/w 'One More Time' (private label, 1984)
I am willing to bet, dollars to donuts, when Ms.
R.U. CARLEY
and CO. sang the chorus to this sunny-A-side-up piece of fluff boulevard power pop that she had - much more - the city (El Eh) in mind than she did the state (the great Huey P. Long Child Of The Mississippi - LA - Louisiana).
...which is unfortunate, as it's taken this boy in LA (the state) to rediscover this 30 year old municipal gnu wave footnote, long after the GQ boys in corvettes on Sunset had ceased caring. However, perhaps this was merely a realization of radio rock
realpolitik,
as one can not cruise very far in the Pelican state bayou.
That said, what is known about
R.U. CARLEY
is that this is her group's only record, the A-side of which was included on a
neuvo
Girl Group compilation put out by Rhino ('
The Girls Can't Help It
') the same year their self-issued single came out and that the B-side is terrible.
That's it.
THE SHIVVERS
it is not!
As phoney as
PEARL HARBOR & THE EXPLOSIONS
, as slick as the post-Stiff
GO-GO'S
, yet only one VALLEY GIRL party scene away from immortality. And, in all actuality, a pretty catchy tune.
Enjoy then
R.U. CARLEY
and thank me for keeping the B-side all to myself.
'
BOYS IN L.A
.'
'
ONE MORE TIME
'