Guess who's back?
Back again.
Sing Sing's back
Tell a friend.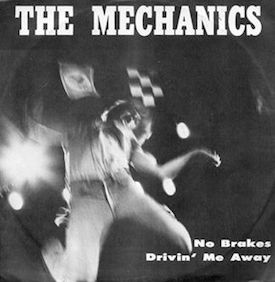 THE MECHANICS, 'No Brakes,' b/w 'Drivin' Me Away' (private label, 1980)
'Oh, SoCal – so much to answer for.
..'
But don't blame
THE MECHANICS
for their name OR for the dummies that they allegedly inspired (
SOCIAL DISTORTION
and
TEH ADOLESCENTS
or so the legend goes).
Fullerton's finest
CHEAP TRICK
grease-monkeys earned their chops and lubed their gaskets playing in dirt-track/dirt-weed
UFO
and
MONTROSE
cover combos with names along the lines of CREAM PUFFY FATTY and THE L.A. BRATS (the latter proving, beyond a shadow of a doubt, to be the most-franchised proto-punk surname in history – literally like a satin jacket Papa Johns).
After poaching spare-parts from other respective bubble-perm and frayed-denim
Radio Free Hollywood
pit-crews,
THE MECHANICS
began their ill-starred crusade as street-preacher spokesmen for the Carburation Generation, playing mostly to crowds of bored and brainless Orange County stoners before famously being denounced as
'waaaaay too metal'
by Brendan Mullen at the band's audition to play at The Masque.
In any event, despite a lengthy life-span ('77 – '81) and TONS of unreleased material,
THE MECHANIC
S lone 1980 45 is the sole skidmark clue as to the band's existence.
With guitarist Tim Racca drawing heavily upon the
Ginsu
-knife guitar pop/rock attack of Rick Neilsen, both sides of
THE MECHANICS'
self-issued single, if failing to immediately elevate one to heaven tonight, at least rescues the listener from the mediocre purgatory that is 99.9% of late 70's L.A. punk rock.
Yeah, I said it.
Also, I've never actually knowingly heard either SOCIAL DISTORTION or TEH ADOLESCENTS so I'll leave it up to the more pop-punk philistine elements of this blog's readership to comment upon the sonic verisimilitude.

Come on Vann's wearers – we're counting on you!
Post-script
:
the Youtube videos of
THE MECHANICS
tearing it up at the Starwood are ignored at your own reputation's extreme peril (fingerless-gloves-related).
Oh yeah honey, (sh)it's all coming back!

'NO BRAKES'
'DRIVIN' ME AWAY'