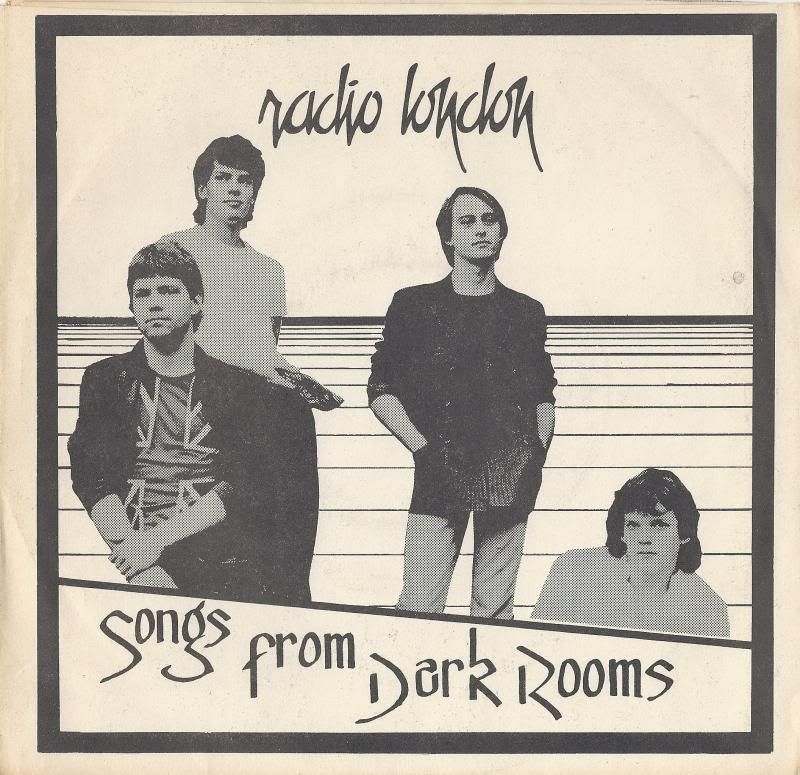 RADIO LONDON, 'SONGS FROM DARK ROOMS' (Pterodactyl, 1983)
'
These go to 11.
'
Blatant laziness and localism from this native stomper of southern Magnolia state soil.
Jackson, MISSISSIPPI - yes, you read that right - powerpop group formed by Jeff Lewis, original guitarist with Jackson's (only) other "big" (quotations denoting relativism) pop group,
THE WINDBREAKERS
. After playing on the band's debut EP, "Meet The Windbreakers," Jeff split for more green-circled Angophile pastures to form
RADIO LONDON
, leaving behind this double-shot, self-produced, self-issued deuce-pack double 45 as the band's only vinyl legacy.
Four (COUNT EM! FOUR!) moody cuts in a jangly pop vein not too far removed from
THE WINDBREAKERS
themselves make up the whole of "Songs From Dark Rooms," only with a slightly darker, more angst-ridden
R.E.M
-ish lyrical slant largely absent from the oeuvres of Messrs Lee and Sutcliff. Of the four cuts, "Things Get Broken," is the clear winner with its great burning guitar solo and clap along/smash along beat.
Centered upon the local club/dive W.C. Dons,
RADIO LONDON
played with nearly everybody in the largely isolated Jackson punk / new wave scene - from
THE GERMANS
to
THE MEN WITH NO I.Q.'S
until the band's eventual dissolution.
And it's up to you now, gentle reader, to decide whether or not they were simply wasting their time.
Oh, and also, if some perpetrating BMX butthole from California can convince you that this is in anyway actually a minimal synth record at heart.
Shred it.
'
10 TURNS TO 11
'
'
SAD DAY
'
'
THINGS GET BROKEN
'
'
WHERE ARE YOU?
'